What is BOTOX® Cosmetic?
Millions of women and men already know BOTOX® Cosmetic – a nonsurgical treatment that helps temporarily improve moderate to severe frown lines between the brows, around the eyes and forehead.
Indication
BOTOX® Cosmetic (onabutulinumtoxinA) is a prescription medicine that is injected into muscles and used to improve the look of moderate to server frown lines between the eyebrows (glabellar lines) around the eyes, and on the forehead.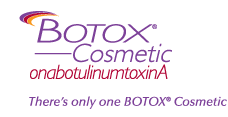 Learn more about BOTOX® by clicking on the logo.
If you're ready to schedule your BOTOX® consultation with Dr. Powers, give us a call! For Westlake Village patients, please call (805) 379 – 3104. Long Beach patients, please call (562) 427 – 8866.